3 tablespoons extra-virgin olive oil, divided 
1¼ pounds jumbo shrimp, peeled, deveined, tails removed, patted dry 
4 medium garlic cloves, finely chopped 
4 teaspoons fennel seeds, finely ground 
¼ teaspoon red pepper flakes 
⅓ cup dry white wine 
1½ pounds small tomatoes, such as Campari, chopped, plus ¼ cup finely diced 
⅓ cup pitted Kalamata olives, chopped 
2 tablespoons plus 2 teaspoons chopped fresh oregano 
Kosher salt and ground black pepper 
4 ounces feta cheese, coarsely crumbled (1 cup) 
¼ cup chopped Peppadew peppers (optional) 
Recipe Note: 
This classic Greek dish pairs plump, sweet shrimp with briny feta cheese. We added chopped Kalamata olives for added savoriness, as well as ground fennel for a hint of anise. Our preferred tomatoes for this recipe are Campari (or cocktail) tomatoes, as they tend to be sweet and flavorful year-round; they're larger than cherry tomatoes but smaller than standard round tomatoes and usually sold on the vine in containers. We tried cherry and grape tomatoes, but found their skins to be tough and unpleasant in the finished sauce. Chopped Peppadew peppers are an unconventional ingredient, but their mild, sweet heat makes them a welcome addition. Serve with crusty bread to sop up the sauce.
Shrimp with Feta Cheese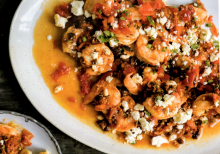 Click image to enlarge