From the cookbook: Sauce Vierge, which translates from French to "virgin sauce" is a modern classic French sauce made from olive oil, lemon juice, chopped tomato, chopped herbs, and spices such as coriander seed. This elegant recipe, inspired by one of Jason's [Stanhope, executive chef at FIG restaurant in Charleston, SC] menu items, might be more typical of the South of France than the Southern United States, but it's Southern just the same.
1 tablespoon coriander seeds
1 cup extra-virgin olive oil
4 garlic cloves, smashed
6 basil leaves and stems (about ½ ounce), coarsely chopped
3 tomatoes (about 1 ½ pounds), cored, seeded, and diced
1 shallot, finely chopped
1 tablespoon sherry vinegar
Coarse kosher salt and freshly ground black pepper
1 firm white fish fillet, such as snapper, grouper, or salmon, cut 1½ inches thick (about 2 pounds)
1 lemon, very thinly sliced
8 sprigs thyme
2 bay leaves
½ cup green olives, preferably Castelvetrano, smashed and pitted
Author's note: This recipe features Sicilian Castelvetrano olives, which are best for eating instead of pressing into oil. These olives are known for their rich, buttery texture and meaty, green flavor. They are less briny and sweeter than many other olives and can often be found at Costco, Whole Foods, and gourmet specialty stores and online.
Slow-Roasted Snapper with Olives and Tomato Vierge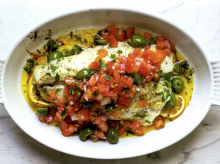 Click image to enlarge