Chef Justin Ferguson's Nice Rack
Making an Impression in the Kitchen
Behold the Knife Rack of Chef Justin Ferguson of Superior Seafood, a stunning Parisian bistro-inspired eatery in New Orleans.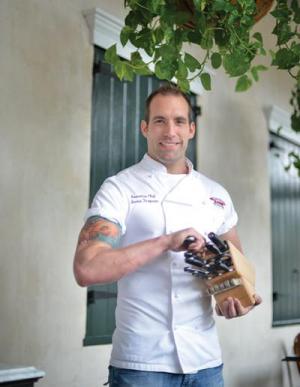 What makes Ferguson's rack so nice is that it is fully loaded with the razor-sharp Wusthof knives he favors for constant use in his busy restaurant.
We were equally impressed by the dashing figure Ferguson cuts as he wields his weighty knives. So impressed, in fact, that the images of him had to continue here, because they're just too steamy for print.
Louisiana Kitchen & Culture publisher Susan Ford sucked it up and agreed to act as "fluffer" for the shoot, making sure the knives were sharp, the rack was clean, the sleeves were rolled up, the chef coat was tight, the apron was properly adjusted...
"It's a tough job, but someone has to do it" said Ford. "I'm happy to take one for the team when necessary."
Enjoy the gallery below; click on any photo to launch.
4338 St. Charles Avenue * New Orleans, LA 70115
504-293-3474