Fourth Annual New Orleans Roadfood Festival
Louisiana Recipes Weekly

  Every Thursday you'll receive new recipes, events & festivals and more. See archive  
When:
Mar 24, 2012

to

Mar 25, 2012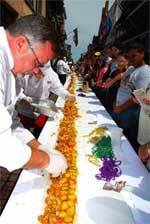 The event will take place from 11a.m. to 6 p.m. both days at New Orleans' historic French Market. Roadfood.com partners with unique food vendors from across the country to highlight a wide selection of specialty dishes.
This year's festival will showcase over thirty restaurants serving the dishes that put them on the map. Attendees will enjoy BBQ from Texas and Memphis, savory panzarotti from New Jersey, Tucson's best tamales, freshly made custard from upstate New York, Cajun and Creole delicacies from across Louisiana and many other regional culinary specialties. Admission to the festival is free.
The weekend will kick off on Friday, March 23, with a special event which will include guests from Public Radio's award-winning weekly food show, "The Splendid Table." The kickoff event will take place in the Grand Ballroom of the Royal Sonesta Hotel in the heart of the French Quarter. This live taping of WWNO's "Louisiana Eats!" program will be hosted by Poppy Tooker with The Splendid Table's star, Lynne Rossetto Kasper, Roadfood creators Jane and Michael Stern, and a host of notable chefs who are bringing their good food to the festival.
Roadfood.com will also award its annual Roadfood Blue Plate Award at Friday's event. This year's recipient is Doug Sohn of the renowned Hot Doug's Cased Meat Emporium in Chicago, Illinois. A limited number of tickets are still available for this event at www.Roadfood.com.
Festival organizers announced a number of additions to this year's event, including live music, a main stage and a Saturday night crawfish boil. Through a partnership with the French Market, the festival will benefit from an opportunity to increase the number of food vendors and provide live local music while attendees enjoy the French Quarter atmosphere.
Saturday night's crawfish boil will allow guests to experience a traditional Cajun fais-do-do. This traditional celebration will feature endless crawfish during the peak of their season, a whole hog cochon de lait barbeque and live music for dancing. A limited number of tickets are still available through www.Roadfood.com.
Festival goers will also enjoy the New Orleans Roadfood Festival Beignet Eating Contest on Sunday, March 25. The competition will give local firefighters a chance to win the coveted World Beignet Eating Champion belt.
Until this year, the three previous festivals took place on Royal Street. These previous festivals drew an average of more than 30,000 visitors. In previous years, nearly 50 restaurants participated in the street festival and weekend events, and the festival continues to grow each year.
The Roadfood Festival is a joint venture of Roadfood.com and the New Orleans Convention Company. For more information on the event, visit the festival's website