Our Buds The Taste Buds Win Prestigious Community Service Award from the National Restaurant Association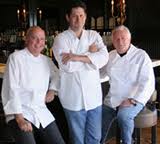 Taste Buds Management of New Orleans, has been selected as the 2012 Restaurant Neighbor Award Winner in the mid-size business category. The Restaurant Neighbor Award was created by the National Restaurant Association (NRA) to recognize restaurants that exemplify the industry's philanthropic spirit.
After back-to-back tornadoes hit Alabama and Missouri in 2011, New Orleans-based chefs Greg Reggio, Hans Limburgh and Gary Darling launched Three Chefs One Mission. Remembering the help they received after Hurricane Katrina in 2005, these restaurateurs wanted to respond in kind.
The goal of the nonprofit is to serve hot meals to victims whenever or wherever disaster strikes. The three restaurateurs share a 20 year track record of supporting their community through myriad causes, including last year's Liuzza Palooza, which helped raise funds for local restaurateur, Michael Bordelon, who was injured in a drunk driving accident, and participation in Gleason Gras, which benefited former New Orleans Saints player Steve Gleason, who has been diagnosed with amyothropic lateral sclerosis (ALS). 
Taste Buds Management, which owns and operates Semolina and Zea Rotisserie & Grill restaurants, was recognized yesterday evening, along with the three other national winners, at a gala dinner during the NRA Public Affairs Conference in Washington, D.C. The business also received a $5,000 charitable contribution.
"Restaurateurs are some of the most philanthropic business owners on earth." said LRA President & CEO Stan Harris. "Greg and his partners, Hans and Gary, are an excellent example of how 'paying it forward' can change lives, one plate of food at a time. We are thrilled that Taste Buds Management has been recognized for its community service efforts."
The National Restaurant Association and American Express developed the Restaurant Neighbor Award program in 1999 in an effort to raise awareness of the industry's contributions to local communities throughout the country, and to inspire more owners and operators to get involved within their respective neighborhoods. Participating state restaurant associations select local winners and then nominate them to compete for the national award.
"The recipients of this year's Restaurant Neighbor Award embody our mission to enhance the quality of life for all we serve," said Dawn Sweeney, National Restaurant Association President and CEO. "We are proud to recognize the incredible efforts of this year's winners, whose generosity and commitment to bettering their communities has touched the lives of countless individuals. Their stories exemplify the restaurant industry's dedication to community service."