Pause 4 Dinner to Celebrate Bonzo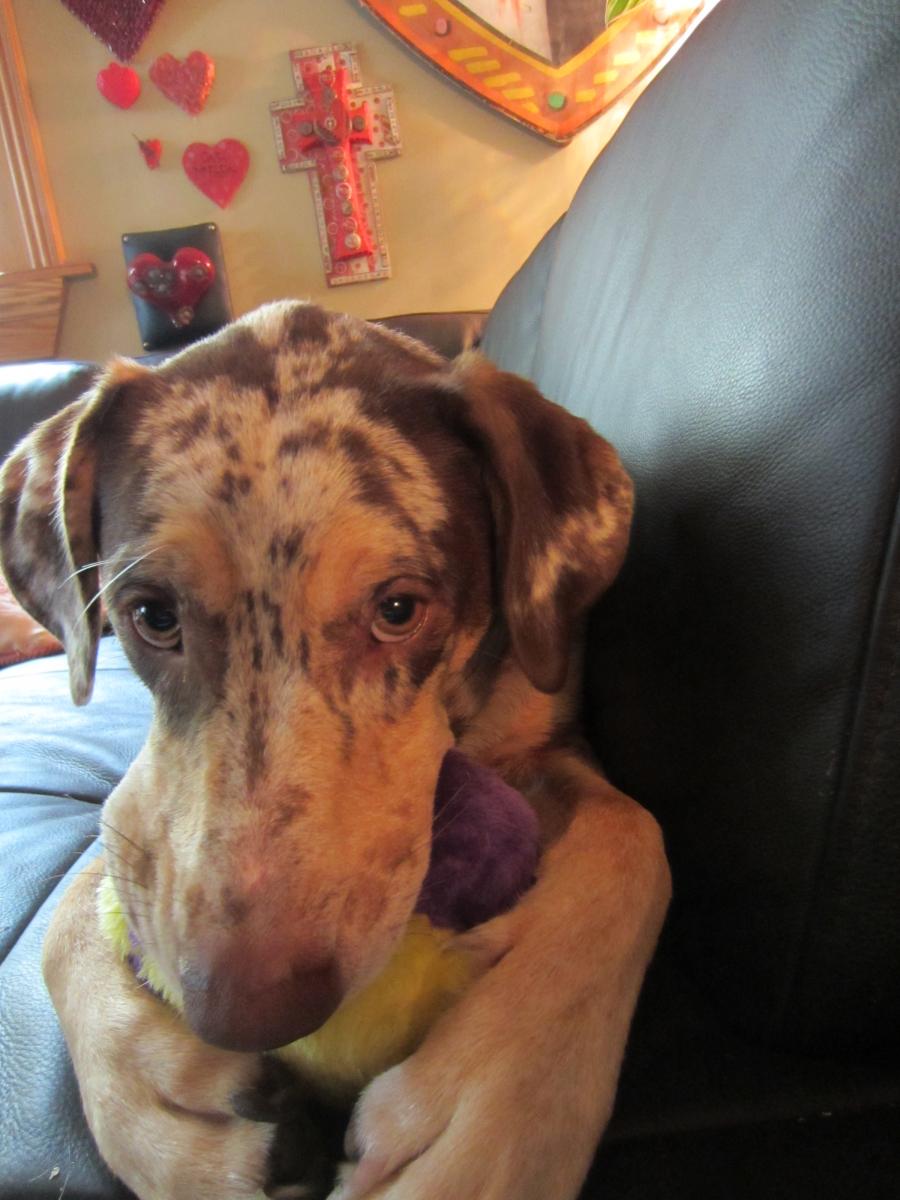 Exactly six weeks from now will mark the one year anniversary of the day when I took complete leave of my mind and succumbed to Cecilia's plea that I drive her and Julia to Slaughter to check out a Catahoula/Chocolate Lab puppy the West Feliciana Parish Animal Shelter was having fostered at a local farm. She was desperate for the experience of having a male dog who would worship her as Boogie, my late, beloved, male mutt, worshiped me. It is true that not one of our existing four female dogs was devoted solely to Cecilia-worship. Lovebug, my bitchy four pound Chihuahua, is devoted to me; with three legs, one working eye, dreadlocks and an under bite, so-ugly-she's-cute Poppy is all about Andrew; and Happy and Penny Lane distribute their attention equally among the three of us.
We left Slaughter with a 9 pound, green-eyed pudgeball with a mottled golden and brown coat. Cecilia named him Bonzo after John "Bonzo" Bonham, the late drummer for Led Zeppelin.
Today is Bonzo's birthday. He is one year old.
Living with five dogs —five primarily indoor dogs—
can be a daunting and  sometimes I think people would offer less shocked reactions if I told them I was operating a BDSM club out of the shed in my yard. Travel is a challenge and requires a house sitter; keeping everyone fed, flea-free, and in proper veterinary care is horribly expensive; and the vacuum cleaner runs almost constantly in an effort to combat dog hair. Like people, each of them has quirks and hang-ups. In Bonzo's case he has a strange reliance on plush purple and gold fuzzy footballs with long tiger tails. We caught a couple of the balls off a Mardi Gras float last year and tossed them into a basket where they were ignored by our four female dogs. Bonz latched on to one of them just as soon as we brought him home from the shelter. He took the ball between his paws, stuffed it halfway into his mouth, coped a weird blissed-out look on his face and proceeded to attempt to nurse on the thing. His strange dependency on the ball necessitated frequent washings, which quickly led to its demise, necessitating its replacement with the one remaining ball. The demise of that ball led to desperation and sadness. Now we purchase the balls by the dozen from a Mardi Gras supply house on the West bank . Yes, it's a hassle but I love a good story and my pack guarantees a life that is full of them.
With the exception of Lovebug, who was a Mother's Day/wedding gift, throughout my life all of my pets have been rescues from the shelter system.  And, while I am not advocating that everyone should take pet adoption to the extreme that my family does, I do encourage that if you have room in your heart and room in your home you should take in some sort of critter with whom you can share your world.  As loony as I know I am for having adopted the now 70-pound heap of needy, highly destructive, Cecilia-worshipping, ridiculousness that is Bonzo, he has enhanced my life exponentially. I look forward to being with every one of my dogs every single day.
With this in mind our family will be participating in Pause 4 Dinner this Thursday evening. An annual one-night only restaurant event, participating restaurants throughout the Greater New Orleans area will partner to raise money for the Louisiana SPCA. Participation is simple, just eat dinner at one of the listed restaurants, each of which will donate 20% of their dinner proceeds to the Louisiana SPCA.
Taking ourselves out to dinner will be our gift to Bonzo, whom we will leave at home with a fresh new fuzzy football and a rawhide bone.