| | |
| --- | --- |
| | |
 




Louisiana Kitchen

It's hard to believe that Thanksgiving is this week. This year rather than doing an entire dinner at home, I'm going to join some friends for a pot luck. We're all great cooks, and I'm really looking forward to it. We'll have pictures and recipes in time for your post-Thanksgiving meal planning; meanwhile, Jyl, Jim, and I have pulled together holiday recipes, some oldies and some surprises for you to try.

 

Jyl and I always seem to have an "adventure" when we travel, and this week was no exception. Monday we headed out to New Iberia to see a few people, and ended the day with a flat tire in the parking lot at Bruce Foods. I was ready to change it myself but couldn't loosen the lug nuts; thankfully, someone a little stronger came along to help and we were on our way.

 

We've put up a gallery of photos from Beer and Boudin, and from the ribbon cutting and grand opening ceremony at the new Rouses in New Orleans. Take a look—live vicariously through us if you weren't able to attend yourself.

We do ask that you help us grow: 

My best regards,

Susan Ford, President
Kitchen and Culture Co.
http://louisiana.kitchenandculture.com
susan@kitchenandculture.com  
jyl@kitchenandculture.com

---

New Restaurant:

Our friends Chef Phillip Lopez and Maximilian Ortiz opened their dream restaurant Root this week, and they invited us to join them Wednesday night for dinner. Fantastic! Click here for food porn.

200 Julia Street, New Orleans, LA

(504) 252-9480

 

---

Follow Us on Facebook:

Kitchen and Culture


---

Did you miss last week's recipes?

Seafood Cannelloni with Leek Fonduta

Seared Gulf Shrimp with Black Pepper Flapjacks and Bourbon Honey Syrup
---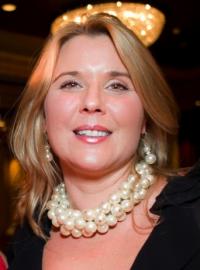 Introducing Jyl Benson:
Co-founder of Louisiana Kitchen and editorial director par excellence.
"I took so many things for granted growing up in New Orleans, among them Southern Fried Shrimp or Stuffed Crabs and Brabant Potatoes for dinner on Fridays, beans or vegetables stewed with smoked or picked meats, leftovers magically reinvented as gumbo, and Pecan Pie on the Thanksgiving sideboard. I simply assumed everyone everywhere ate as we did in Louisiana."
---
---
| | |
| --- | --- |
| | Chef Brian Landry prepared this delicious, creamy bisque on the Lousiana Seafood Promotion and Marketing Board's Culinary Central Stage at the New Orleans Home and Garden Show earlier this year. Gumbo crabs are simmered with onions, garlic, fennel, celery, and tomato paste and a few herbs and spices. The soup is strained, and thickened with a blonde roux and some cream. Garnish with Louisiana crab claws (as pictured) or a few ounces of jumbo lump crab meat. Easy, but stunning enough for any party. |
---
 
Jumbo Lumb Crab Cakes with
Soy Bean Succotash
 
| | |
| --- | --- |
|   | Chef Nathan Gresham was paired with Brian on stage, and prepared this beautiful, delicious dish. Don't let the recipe intimidate you—it looks complicated but it's really quite simple. You can make the bechamel, corn infused cream, and spicy aioli in advance. The prep work for the crab cakes and succotash is going to take about 20 minutes, with another 20 minutes of hands-on cooking time. This serves 4 as an entrée; cut the size of the crab cakes in half for 8 appetizers. |
---
---

Published by Kitchen and Culture Co., Louisiana Kitchen  magazine will launch in 2012. The editorial mission is to provide an insider's guide to the authentic experiences today's cultural and culinary travelers seek—and of course, the recipes you'll need to create authentic Louisiana cuisine for your friends and family. 

November 19

French Market Tree Lighting, New Orleans

 

November 19

BBQ Cook-off and Classic Car Show, Marksville

 

November 19 - January 1

Christmas Lights Celebration, Natchitoches

 

November 20

Oak Street Po-Boy Festival, New Orleans

 

November 23

Festival of Lights on the Waterfront

 

November 25 - 30

Thanksgiving at Houmas House, Darrow

 

Thanksgiving Brunch or Dinner at Ritz Carlton, New Orleans

 

Nottoway Gives Thanks, White Castle

 

28th Annual Christmas in Roseland, Shreveport

 

Boudreaux's Christmas Extravaganza, New Roads

 

Sounds of the Season, New Iberia

 

Click here for a long range calendar of events.

 
---
| Add Us as a Friend on Facebook | Forward to a friend
2011 Copyright © Kitchen and Culture • All Rights Reserved.
You are receiving this because you have indicated you are interested in authentic Louisiana cuisine and recipes.  Our mailing address is:  
Kitchen and Culture • 1450 Annunciation Street #2119 • New Orleans, LA •  70130
 Louisiana Kitchen is a registered trademark of Kitchen and Culture.
 | view email in your browser |