Thursday, November 15, 2012  
 

 

Louisiana Kitchen & Culture photographer David Gallent and I are off the Natchitoches this weekend for the opening celebration for the town's 86th Annual Christmas Festival of Lights, which happens Saturday night following a concert by blues guitarist and singer Tab Benoit, one of my favorites.

What is sure to be an eye-popping display will feature more than 300,000 lights over 100 holiday art installments  throughout the Landmark Historic District along the Cane River and Cane River Lake. An assortment of holiday marketplaces, fireworks displays, a Natchitoches/ Northwestern Christmas Gala, holiday home tours, a children's Christmas party, entertainment on the downtown riverbank stage, and visits and photos with Santa on the riverbank will continue through January 6, 2013.  

Natchitoches is a beautiful, unique town so it should be a memorable weekend. We are bringing our spouses along and staying at the newly-renovated Maison Lousiane, a Victorian-area home just steps from downtown. We are told it is sensational so we can't wait to check it out. 

Something for you to check out: I came across a new book this week, How to Build a Better Pie by Millicent Souris (Quarry Books, 2012). While I am a confident cook I remain intimidated by making pies but this books breaks the process of making both sweet and savory varieties down with illustrations in a logical manner anyone can grasp.  Souvris covers how-to's on making crust (that's the daunting part for me), addressing not just basic crusts but crumbles, shortbread, gingersnap and Cheddar varieties, as well. Recipes for the expected Apple and Rhubarb varieties are here but so are more daring choices like Chocolate-Olive Oil, Corn-Buttermilk, Oyster, and  Lamb pies.  She also teaches how to make hand pies, galettes,  and turnovers in addition to the classic round varieties  most of us expect to find on the Thanksgiving side board.

Enjoy this week's recipes, and let us know what's on your mind.

Best-

Jyl Benson, Editor in Chief
Louisiana Kitchen & Culture
jy;@kitchenandculture.com

PS: Place your order today for gift subscriptions. 

 

---

Find Us On Facebook:

---

Recent Blog Posts:
---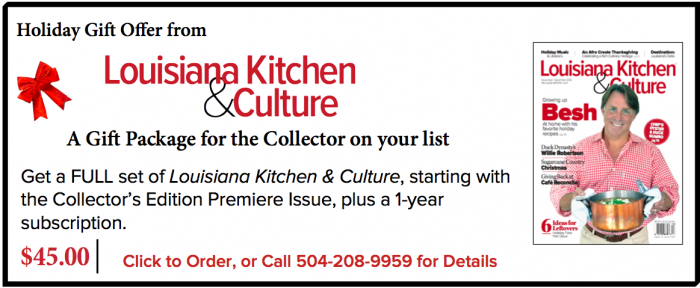 ---
Shaker Lemon Pie

"I've had my eye on this pie for a while, intrigued by a pie so ballsy to use sliced lemons but wondering how it would really taste," Millicent Souris writes in How to Build a Better Pie. "This version should give you a tangy pie somewhere between a custard and a curd. The lemon slices become soft and edible, and the ones on top end up with a candied quality. And it's pretty. Real pretty."
---
Sweet Potato Pie w/Sesame Praline Crust

 

In How to Build a Better Pie, Millicent Souris writes "It is really important to make this pie with actual sweet potatoes. Canned sweet potatoes have a disconcerting texture, one thought up by men in suits over a three-martini lunch. It's tantamount to public school or hospital food, something capable of holding its shape in times of need and needlessness. A starch should never be so gelatinous." 

 
---

---
Spiced Holiday Pecans

I know, I know, large Louisiana pecan halves are on the pricey side but they are worth it for this easy , make-ahead dish, which is impressive when presented as a hostess gift or just tossed out in a pretty dish and served with cocktails to guests while you finish roasting the turkey, or, if you are anything like me , you will put these out, telling guests to concoct their own drinks while you run back into the bathroom in your robe to finish trying your hair. I am never, ever ready when guests show for dinner. Never.
---
---

---

Louisiana Kitchen & Culture's e-Newsletter reaches thousands of people every week. For advertising information,
email Susan

---

Nov 14, 2012

 to 

Nov 17, 2012

Nov 15, 2012

 to 

Nov 17, 2012

Nov 15, 2012

 to 

Nov 18, 2012

Nov 16, 2012

 to 

Nov 19, 2012

Nov 16, 2012

 to 

Nov 17, 2012

Nov 17, 2012

Nov 18, 2012

Nov 24, 2012

Nov 27, 2012

---
| Add Us as a Friend on Facebook |
Published in Louisiana by Louisianians
2012 Copyright Our Kitchen & Culture, LLC.  All Rights Reserved
You are receiving this because you have indicated you are interested in authentic Louisiana cuisine and recipes.  
Our mailing address is: Kitchen & Culture  1450 Annunciation Street #2119  New Orleans, LA   70130
 Louisiana Kitchen & Culture is a registered trademark of Our Kitchen and Culture, LLC.