| | |
| --- | --- |
| | |
 

Welcome to Louisiana Kitchen

 

I am in Atlanta this weekend to visit my mother-in-law—we're celebrating her 90th birthday. Family has gathered from upstate New York, northern and southern California, Chapel Hill, NC, and of course New Orleans. Rose doesn't spend time in the kitchen any more, but back in the day she was a great Italian cook. I am lucky in that she took the time several years ago to write down my husband's favorite recipes and pass them on to me. I'm missing Mardi Gras, but it will roll around again next year. I'm happy to be here, and I brought king cake, so I'm a hero.

 

​If you are in a Mardi Gras zone this weekend, browse Jyl's blog for some culinary ideas. She lives on the uptown New Orleans parade route and is the consummate hostess. 

 

​If you're visiting a city rife with Mardi Gras parades and aren't familiar with how things work, check in with the area's local convention and visitor's bureau. It is likely to have parade schedules, public transportation schedules, and other information on local traditions and customs. For instance, in New Orleans, many street cars are not in operation when parades are rolling, and the bus system follows an altered route. The city's Regional Transit Authority may have schedules as well. Most don't allow you to consume food or drink on board, so empty your go-cups. Check for road closures as well—I got trapped on the wrong side of a parade several times before I learned the ropes.

 

We continue to make progress on the Premiere issue of Louisiana Kitchen; many thanks to those of you who have already subscribed. Our goal is to have 1,000 paid subscribers by launch—with your help I have no doubt we'll make it. Subscription information is here.

 

Laissez les bon temps rouler!
                                                              
Susan Ford, President
Kitchen and Culture Co.
http://louisiana.kitchenandculture.com
susan@kitchenandculture.com  
jyl@kitchenandculture.com

 

 

 

---
---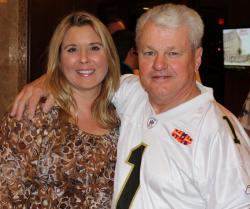 Life on a Parade Route
Three years ago the Uptown parade route expanded and some of the bigger parades now roll from  the corner of Jefferson Avenue and Magazine Street. This means that three years ago in a stroke of the greatest fortune ever I found myself suddenly living 400 feet off of a parade route. My best friend Cyndi Collier lives two blocks from me on Jefferson Avenue and we have developed this pretty perfect system whereby she throws out a spread of food and booze for before the parades and everyone gathers over there then we all head to my house for the post-parade party.
Read the rest of Jyl's blog here, along with her go-to parade fare.
---
---
 

The muffuletta sandwich is Italian, and was invented in New Orleans in the early 1900s. Traditionally served on a large round loaf of Italian bread, feel free to substitute French bread or focaccia, or turn this into hors d'oeurves by parceling everything out on little slider buns.

The key is the olive salad. The Rouses brand and the Boscoli brand are both good; if you can't find them in your area, a quick Google search turns up plenty of recipes.  
---
| | | |
| --- | --- | --- |
|   | Emeril's Creole Fried Chicken |   |
 

Fried chicken is almost always better served hot and crispy. A cold, hungry crowd looking for food after an evening of parade-watching won't care, though, and this zesty fried chicken recipe from Emeril Legasse is a very good choice. You smear the chicken pieces with lots of Creole mustard, season them with Emeril's Essence, and fry them up. Delicious! 

 
---
| | | |
| --- | --- | --- |
|   | Rose Bud's Ginger Crackles |   |
 

I found this recipe written on an index card in some of my mother's paperwork back before the holidays, and it brought back vivid memories. She loved spices, and made these cookies year round. I suspect she used even more ginger than the recipe calls for, but try this first and use your own judgment  for the second batch. 
---
---

Published by Kitchen and Culture Co., Louisiana Kitchen magazine will launch in 2012. Our editorial mission is to provide a unique guide to authentic Louisiana cultural and culinary traditions—and of course, the recipes you'll need to create authentic Louisiana cuisine. Your friends and family will love you.

---

---

Interested in Advertising?
email Susan

Mardi Gras! Check your with your local Visitor's Center for parades in your area.

 

 
| Add Us as a Friend on Facebook |
2012 Copyright © Kitchen and Culture • All Rights Reserved.
You are receiving this because you have indicated you are interested in authentic Louisiana cuisine and recipes.  Our mailing address is:  
Kitchen and Culture • 1450 Annunciation Street #2119 • New Orleans, LA •  70130
 Louisiana Kitchen is a registered trademark of Kitchen and Culture.
 | view email in your browser |