| | |
| --- | --- |
| | |
 

Welcome to Louisiana Kitchen

 

I was supposed to visit Natchitoches last week, and speak at the Kiwanis club luncheon. Iris Harper, executive director of the Natchitoches Convention and Visitor's Bureau, was all set to show me around town and stuff me with local goodies. I left New Orleans Wednesday morning and stopped in Lafayette for gas, where I discovered that my clutch was making noises I'd never heard before. My service guy told me to get right back on the freeway, clutching as little as possible, and proceed directly to his shop; he said he wasn't interested in spending an entire day carting me home. That was an expensive tank of gas, and I still haven't seen Natchitoches, but I did get to spend some time with my friends at the Lafayette CVB.

 

We are making progress on the Premiere issue of Louisiana Kitchen; many thanks to those of you who have already subscribed. Our goal is to have 1,000 paid subscribers by launch—with your help I have no doubt we'll make it. Subscription information is here.

 

Our cover shoot is Monday. I'll take lots of out-takes behind the scenes and post them to a gallery on our website, and will link it off our Facebook fan page. Befriend us if you've not done so already, and you can live vicariously through us.  

 

Mardi Gras parades are rolling all over the state this weekend; I barely escaped being trapped in the Rouses parking lot last night as the first one was staging. There are worse places to be trapped, I suppose... Check your local visitor's center for a schedule of parades in your area.

 

Valentine's Day: Whether you celebrate it or not, I suggest you put the menu below on your list soon. You make the crab salad a day in advance, and the cake earlier in the day. Hands-on time with the steak is about 15 minutes, and you can steam some asparagus while it cooks. A little wine, a little Champagne...

 

Laissez les bon temps rouler!
                                                              
Susan Ford, President
Kitchen and Culture Co.
http://louisiana.kitchenandculture.com
susan@kitchenandculture.com  
jyl@kitchenandculture.com

 

 

---

---


Follow Us on Facebook:

Kitchen and Culture


---

Relevant Blog Entries:

Baiting a Trap with Crawfish Bread

Real Louisiana Food for New Orleans Visitors

 

---

Resources:

Great Recipes for Tailgating (or Mardi Gras!)

---

Miss last week's recipes?

Advertise with us:

Email Susan Ford for a rate card
---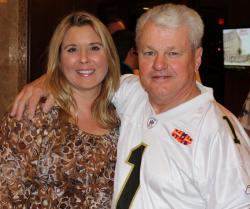 Baiting a Trap with Crawfish Bread
I have done my share of traveling and plan to do much more, but the thought of living anywhere but here is anathema to me. When I was exiled after Katrina, a friend suggested that none of us knew where we would be living in two years. I knew exactly where I would be: In my purple cottage in Uptown New Orleans surrounded by like-minded, relatively impractical people who are food and music obsessed and who, for the most part, drink too much, talk too loud, and always seem to have extra to share.
In 1984, my sister, Beth, moved to Chicago so her then-husband could accept a job as an analytical chemist and she could start her own veterinary practice. I was 16 at the time. Young, petulant, and self-absorbed, I didn't think too much of her going. I missed her, but Chicago seemed pretty cool.
Read the rest of Jyl's blog here, and make her crawfish bread recipe.
---
---
| | | |
| --- | --- | --- |
|   | Starters: West Indies Crab Salad |   |
 

Chef Martha Hall Foose includes this recipe in her James Beard award winning cookbooks "Screen Doors and Sweet Tea. She says it's a staple at bridal showers all over the South, and claims to always make a double batch so she can leave one at home for herself. It is indeed that good, and is the perfect way to start your decadent Valentine's Day Dinner. Pair it with a cold, crisp Champagne
---
| | | |
| --- | --- | --- |
|   | Main Course: Blue Cheese and Herb Crusted Filet |   |
 

I almost always go for a T-bone, but every once in a while I want a meltingly tender filet mignon. If your weather is warm feel free to grill this, but it's just as good prepared in a hot cast iron skillet on top of the stove, then shoved under the broiler to give the cheese a nice finish. Pair this with a rich, deep red. 

 
---
| | | |
| --- | --- | --- |
|   | Red Velvet Cake with Cream Cheese Frosting |   |
 

My mother was a great baker, and I often requested a Red Velvet cake. I found this recipe on a blog title "Lick the Bowl Good", and it tastes almost like what mom used to make—that's a high compliment. Red Velvet is an old cake, and was originally colored with beet juice; today's version uses red food coloring. It's decadent, and the touch of cocoa combined with the color make it a natural choice for finishing off your Valentine's Day meal. Break out the rest of the Champagne. 
---
---

Published by Kitchen and Culture Co., Louisiana Kitchen magazine will launch in 2012. Our editorial mission is to provide a unique guide to authentic Louisiana cultural and culinary traditions—and of course, the recipes you'll need to create authentic Louisiana cuisine. Your friends and family will love you.

---

---

Interested in Advertising?
email Susan

Mardi Gras! Check your with your local Visitor's Center for parades in your area.

 

 
| Add Us as a Friend on Facebook |
2012 Copyright © Kitchen and Culture • All Rights Reserved.
You are receiving this because you have indicated you are interested in authentic Louisiana cuisine and recipes.  Our mailing address is:  
Kitchen and Culture • 1450 Annunciation Street #2119 • New Orleans, LA •  70130
 Louisiana Kitchen is a registered trademark of Kitchen and Culture.
 | view email in your browser |