Recipe excerpted with permission from Besh Big Easy; 101 Home Cooked New Orleans Recipes
Ingredients:
3⁄4 cup canola oil

3⁄4 cup flour

2 large onions, chopped 

6 blue crabs, quartered 

1 stalk celery, chopped

4 cloves garlic, minced

3 quarts Shrimp or Shellfish Stock (Store bought is fine substitute) 

2 cups sliced okra

1 tablespoon fresh or dried thyme

2 bay leaves

1 pound smoked sausage, sliced 1⁄2 inch thick

4 green onions, chopped

2 tablespoons from My Creole Spice Jar (recipe follows)

Salt a

nd pepper

Tabasco

1 pound medium wild American shrimp, peeled and deveined

1 pint shucked oysters and their liquor

1 cup crabmeat 

6 cups white rice

 

My Creole Spice Mix:

2 tablespoons celery salt

1 tablespoon garlic powder

1 tablespoon onion powder

2 teaspoons cayenne pepper

½ teaspoon ground allspice

1 tablespoon sweet paprika

1 tablespoon coarse sea salt

1 tablespoon black pepper

Mama's Seafood Gumbo

Click image to enlarge
Method: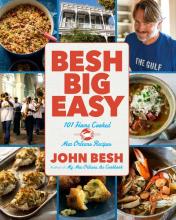 Make a roux by heating the oil in a large heavy-bottomed pot over high heat. Whisk the flour into the hot oil. It will immediately begin to sizzle. Reduce the heat to medium and continue whisking until the roux turns a deep brown color, about 15 minutes. Add the onions, stirring them into the roux with a wooden spoon. Lower the heat to medium low and continue stirring until the roux turns a glossy dark brown, about 10 minutes.
Add the blue crabs and stir for a minute to toast the shells, then add the celery and garlic. Raise the heat to medium and cook, stirring, for 3 minutes. Add the stock, okra, thyme, and bay leaves. Bring the gumbo to a boil, stirring occasionally. 
Reduce the heat to medium low and simmer for 45 minutes. Stir occasionally and skim off the fat from the surface of the gumbo (moving the pot half off the burner helps collect the impurities).
Add the sausage and green onions to the pot and cook for 15 minutes. Season well with the Creole spices, salt, pepper, and Tabasco. 
Add the shrimp, oysters and their liquor, and crabmeat to the pot and cook for about 5 minutes. Serve with rice.
My Creole Spice Jar
I promised not to get too fussy with ingredients in this book, but in my heart of hearts, I really believe you need this simple spice mix to infuse your cooking with authentic flavor.
Mix it together in a small jar, shake it up well, and use it to season your gumbos (and soups and stews). It'll last for months.
—From Besh Big Easy: 101 Home Cooked New Orleans Recipes by John Besh/Andrews McMeel Publishing
---
Louisiana Recipes Weekly

  Every Thursday you'll receive new recipes, events & festivals and more. See archive