Easter Pilgrimage and a Tribute to Leah Chase
Oakland Plantation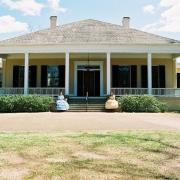 ​My daughter, Cecilia, and her best friend, Julia, left this morning for Natchez, Mississippi, and Oakland Plantation, which is owned by Julia's paternal grandmother. The historic city is in the midst of its annual Spring Pilgrimage and Julia's grandmother likes to have the girls don vintage plantation-style dresses and lead visitors around the grounds. I have not been to the plantation but I have seen pictures of the girls in their finery from past years and the site just cracks me up. This is not to say they do not look beautiful and elegant: They do. It's just that they are both so far removed from the moonlight, magnolias, and  romance that cloud so many 15 year-old girls' heads.
They are both super-smart, outspoken rocker chicks who, in reality, would stick out their proud little feet and trip someone long before they would curtsy before them. The polite, empty conversations I imagine between two Southern bells would never issue forth from the lips of either of these modern maidens: Clad in ratty t-shirts bearing the insignias of Pink Floyd, Led Zeppelin, Sid Vicious, The Ramones, The Who, Ledbelly, Lightening Hopkins, the Red Hot Chili Peppers and the like - at least half of which they lifted from the remaining dredges of my own teenage wardrobe - they will fearlessly - though with respect, dignity, and diplomacy - argue history, politics, and social justice with anyone. They prevail.
I love those little warriors.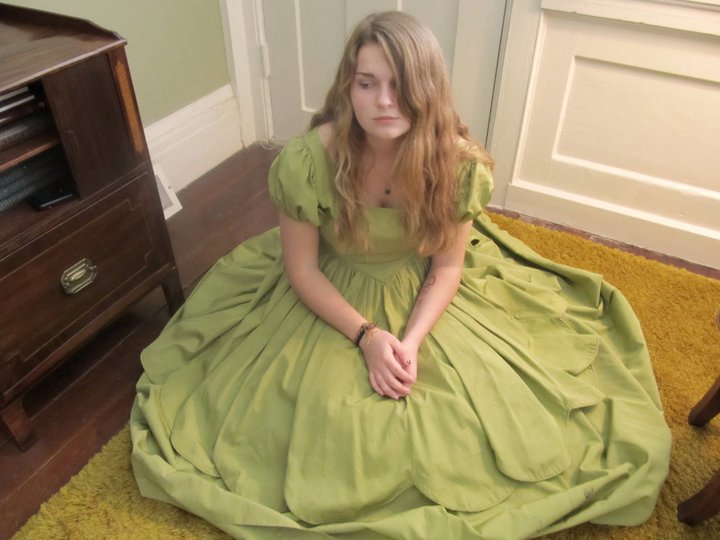 With Cecilia not scheduled to arrive back in New Orleans until tomorrow night Andrew and I will head to the home of our dearest friends, David and Cyndi, for a casual Easter dinner of Cyndi's
Shrimp Creole
(made from her late, very French mother's recipe). I am contributing a
Southern Caramel Cake
and a salad of mache and butter lettuce with
Green Goddess Dressing
. We will probably toast the day with glasses of dry, chilled rosé and celebrate the beauty of Spring. Both our gardens are ablaze with blossoms on the exotic Cajun Hibiscus varietals we are absolutely hooked on.
In the coming weeks New Orleans will pack in the visitors with French Quarter Fest and Jazz Fest happening on three consecutive weekends. This time of year week days are also loaded with special events and attractions, too. Rarely do I plan an outing for a Monday evening but on April 23 I am heading to the New Orleans Museum of Art for a gala honoring Mrs. Leah Chase, one of my heroes. The gala will celebrate Mrs. Chase's 90th year and inaugurate the Leah Chase Art Purchase Fund for the acquisition of works of art by African American artists for the museum. As a  long time patron of the arts it is only fitting that Mrs. Chase is now the subject of an exhibition, "Leah Chase: Paintings by Gustave Blache III," which will also be unveiled  that evening. 
 "LEAH CUTTING SQUASH"  By Gustave Blanche III