Photographer David Gallent and I have been traipsing around northeastern Louisiana for the better part of the week, meeting interesting people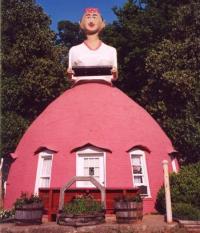 and gathering interesting news and photography along the way. Yesterday, knowing we needed to make a stop in Baton Rouge, we left Mississippi on Highway 61, which took us past Mammy's Cupboard, a restaurant built inside a 28-foot tall black woman's skirt, which is made of bricks, which compliment her horseshoe earrings nicely.
The 60-some-year-old restaurant was closed yesterday so we just snapped some exterior pictures and drove on but it brought back memories of the first time I visited the famed lunch and pastry joint, which was 20 or so years ago.
The frankly obnoxious  exterior of the building gives pause to be sure but it was the memory of what I found inside all those years ago that really made me jump back and left me salivating in the parking lot: Once inside one must carefully navigate the maze of pedestals upon which rest lofty, layered cakes, pies of every description (Banana Carmel stands as a favorite) and the occasional pitcher of jewel-hued Blueberry Lemonade. I also remember having the best Pot Pie ever. Ever.
Mammy's Cupboard, 555 Hwy 61N south of Dunbar Road and south of Natchez