The Squeaky Wheel Gets Greased
Probably the result of a slip-up at the Ortho factory, I was born 17 years after my brother and 13 years after my sister. They flew the coop when I was very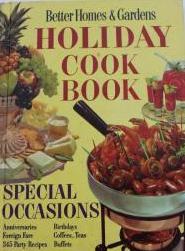 young, leaving me to a relatively boring, lonely childhood. I've always had a strong creative urge so when the crayons broke and the felt tips were bone dry I decided to try my hand at cooking when I was 5 or 6.  There was little supervision so I was free to really wreck havoc and churn out some true culinary disasters (think scrambled eggs with all manner of refrigerator detritus thrown in to make a "special" omelet), many of which I would feed to my mother, a horrible cook in her own right (see Mother's Culinary Heroism). With no one brothering to stop me I just kept on experimenting and my quest for "knowledge" led to a stash of Better Homes & Gardens cookbooks my parents had acquired as a wedding present in 1950.
My best friend's mother presented me with a copy of I Cooked It!, a children's cookbook published in 1975 by the Isidore Newman School Parents Association as a fundraiser. I swear I cooked very damned thing in that book, which I still have. I recall particular success with recipes for Mardi Gras Soup, Easter Bunny Biscuits, Audubon Zoo Pancakes, Peanut Butter Balls I, Peanut Butter Balls II, and Isaacson Hash (provided by the family of Walter Isaacson, the author of biographies on Steve Jobs, Albert Einstein, Henry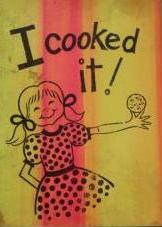 Kissinger and Ben Franklin, among others).
Thus emboldened, I started devouring cookbooks, harvesting armloads from both the public and school libraries, where I drew curious glances as I squealed over things like Mastering the Art of French Cooking.
 Half the time I had no clue as to what these tomes were suggesting yet I soldiered on. I was particularly drawn to books featuring foreign cuisines, attracted to the descriptions of the cultures they represented. Relatives observed my strange obsession and started foisting their old cookbooks off on me (Italian Cooking for Beginners, Ain't That Good!, The Don's Seafood Cookbook, Louisiana Cookery, Louisiana Lagniappe). My collection grew and grew; this led to the Squeaky Wheel (Bitching Hag) late last year.
With cookbooks piled all through the house and our many book cases stuffed to overflowing, I started bitching that I wanted to move all of the cookbooks into one central place in the kitchen. I bitched and moaned that I needed a gigantic hutch within which to store the cookbooks as well as my growing collection of vintage culinary implements. Tired of listening to me, early last December Andrew broke down and started redesigning the kitchen with the intention of completing the hutch in time for Christmas 2010. Christmas came and went, no hutch (although I did get an island and it completely transformed my kitchen). The piles of cookbooks remained, growing. I was made promises of fulfillment for Mardi Gras, Easter, my birthday, Ground Hog's Day, next Sunday, whatever, but still no hutch. Andrew remained stalwart, insisting he would get to it "soon." With Christmas 2011 looming I stepped up the volume and really became a royal pain in the ass about two and a half months ago.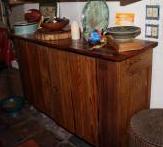 In October the bottom half of the hutch was completed (see A Screamingly Southern Moment) and I promptly stuffed it full of jars of local honey, pickled vegetables, assorted liqueurs, a zillion spices, and whatnot. Not a single book made it in. Piss, moan. About a month ago the base of the hutch was crowned with a massive cypress cabinet (we have vaulted ceilings and the thing soars up one wall), sans shelves. Piss moan. On Sunday of this week the shelves finally made it into the hutch, which remains without doors, is unstained, and the walls around it remain unpainted, but I don't care. I set right to work like the obsessive badger I am, fluffing and arranging the thing with books and "stuff." Now about 50 percent of the cookbooks and a sprinkling of culinary odds and ends have a place to live. 
Damn, I love having a capable man.