| | |
| --- | --- |
| | |
 

Welcome to Louisiana Kitchen

 

 

I enjoyed crawfish yesterday at the groundbreaking ceremony for Chef Duke LoCicero's "Duke's on the Basin" restaurant scheduled to open July 4th weekend on the lakefront in New Orleans.

 

That area was ravaged by storm surges during Hurricane Katrina; this restaurant/dock/seafood market/general store is a major stepping stone to rebuilding the area. Photos from the afternoon are here on our Facebook Fan Page.

 

​Jyl and I are lucky judges in two upcoming fundraisers—tickets for both are on sale now. Stop by and say hello; they both benefit children.

 

Heartstrings and Angel Wings Gumbo Cookoff in Henderson, LA, March 10

Hogs for the Cause competition, New Orleans, LA, March 24

 

And finally, our friend Chef Michael Farrell kicks off the sixth annual French Quarter Wine Festival on Friday, March 2nd. And you wonder why I spend quality time reading cookbooks on the treadmill.

 

We headed off to Rouses last night for a major shopping binge and will cook all day today in preparation for an almost-final photo shoot tomorrow for the premiere edition of Louisiana Kitchen. It's looking fantastic! We're well on our way to our goal of 1,000 paid subscribers by launch—help us reach the goal: subscription information is here.

 

Best regards,

                                                              
Susan Ford, President
Kitchen and Culture Co.
http://louisiana.kitchenandculture.com
susan@kitchenandculture.com  
jyl@kitchenandculture.com

 

---
---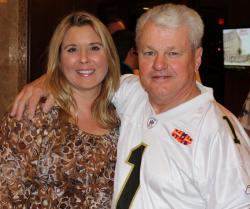 Faking It
Why fake it? Why bother?  They usually figure it out, anyway: Fat free half-and-half, pseudo "butter," tofu or seitan crumbles, soy pasta. And on and on - and other things, too.
But.
Mardi Gras was just that: One big, fat ass Tuesday that lasted a week. I snarfed  down enough varieties of king cake to call it a contest, drowned myself in all manner of gumbos, conducted a study of assorted jambalayas, ate enough fried chicken to start clucking, and drank enough wine to earn the name Bacchus (or whoever his female counterpart is/was). By Mardi Gras Day I was so sick of it all and so grossed out I spent the day happily working. 
Read the rest of Jyl's blog here, along with her low-fat, low-cal, low-carb emergency diet Fake Pho recipe.
---
---
| | | |
| --- | --- | --- |
|   | Shrimp with Cilantro Vinaigrette |   |
 

Like Jyl, it's back to a healthier way of eating for me. Last year I participated in the Seafood Fitness Challenge and dropped ten pounds; another five will get me back pretty close to where I was when I quit smoking ten years ago. This recipe is one I turn to for low calories but great flavors—crucial for me. This is a great stand-alone dish but also adds enough heft to make a meal when added to a green salad.
---
| | | |
| --- | --- | --- |
|   | Oyster and Artichoke Soup |   |
 

Oysters and artichokes go together like peanut butter and jelly; applesauce and pork chops; shrimp and grits. You get the picture. This recipe is from our friends at Louisiana Fish Fry. This soup needs to rest at least 8 hours prior to serving, so make it Sunday afternoon for a fast weeknight dinner. Add  some crust French bread and a green salad, and you're done. Delicious! 

 
---
| | | |
| --- | --- | --- |
|   | "Pot Likker" Noodles with Greens and Ham Hocks |   |
 

I found this recipe in the February issue of Bon Apetit and had to try it— I love greens, smoked ham hocks, and noodles—it's delectable. I've listed the vinegar and sugar as optional; if you're not familiar with cooking greens, use them the first time around and adjust to your taste the next time. Some people scoff at the idea of NOT using vinegar and sugar to cut the bitterness, but I like bitter. Substitute out kale for the mustard greens, and feel free to use a smoked turkey wing instead of the ham hock. 
---
---

Published by Kitchen and Culture Co., Louisiana Kitchen magazine will launch in 2012. Our editorial mission is to provide a unique guide to authentic Louisiana cultural and culinary traditions—and of course, the recipes you'll need to create authentic Louisiana cuisine. Your friends and family will love you.

---

---

Interested in Advertising?
email Susan

 

Feb 25, 2012

Houma: Terrebonne Livestock Rodeo - Winter Series

Feb 25, 2012 to Feb 26, 2012

Loreauville: Top Rod Big Bass Classic

---

Feb 29, 2012

New Iberia: SugarFest 4-D Barrel Race

---

Mar 2, 2012 to Mar 4, 2012

Monroe: Barack Shrine Circus

New Orleans: New Orleans Home & Garden Show

Ponchatoula: The Ponchatoula Antique Trade Days, Art & Craft Fair

---

Mar 3, 2012

Alexandria: Salute to Spring Show

New Iberia: Great Gator Race; Shadows Arts & Crafts Show

---

Mar 4, 2012

Opelousas: Annual Beef Cookoff

---

 
| Add Us as a Friend on Facebook |
2012 Copyright © Kitchen and Culture • All Rights Reserved.
You are receiving this because you have indicated you are interested in authentic Louisiana cuisine and recipes.  Our mailing address is:  
Kitchen and Culture • 1450 Annunciation Street #2119 • New Orleans, LA •  70130
 Louisiana Kitchen is a registered trademark of Kitchen and Culture.
 | view email in your browser |