| | |
| --- | --- |
| | |
 

Welcome to Louisiana Kitchen

 

Jyl and I were in charge of wine and beer for the cocktail party we helped organize for the Louisiana TravelPAC here in Shreveport this week. We loaded up 54 bottles of wine and 4 cases of beer (including one packed into a milk crate) along with my golf clubs, enough beauty supplies to open up a store, some chef schwag—LA Seafood Promotion and Marketing Board goodies and Jazzmen Rice—and rattled off down the road to adventure. 

 

Jyl participated in the culinary tour around Shreveport Tuesday afternoon, and I played golf at Olde Oaks Golf Club on the Audubon Golf Trail. (Some would say I got the better end of the deal, some would say she did.) She sampled great food at Marilynn's Place, Herbie-K's and Monsour's and photo gallery. Recipes to come!

 

Wednesday we convened just after the crack of dawn for Lt. Governor Jay Dardenne's breakfast keynote address on the state of tourism. 2012 is Louisiana's bicentennial celebration and there will be a myriad of events all year long, in all corners of the state. I am looking forward to them all, and of course we'll keep you posted.

 

On a side note, our Lt. Governor is deeply committed to the travel and tourism industry in our state. He took three full days out of his busy schedule to spend at our LTPA Summit this year, and I know I speak for most, if not all, LTPA members when I say "Thank you very much, sir."

 

We're off to Monroe, then will head south, and should be back home over the weekend. But you never know what opportunities might present themselves. Enjoy this week's recipes! They're all nominal fuss, maximum flavor.

 

My best regards,
                                                              
Susan Ford, President
Kitchen and Culture Co.
http://louisiana.kitchenandculture.com
susan@kitchenandculture.com  
jyl@kitchenandculture.com

 

 

---

---

Follow Us on Facebook:

Kitchen and Culture


---

Relevant Blog Entries:

Visitors: Our Favorite New Orleans Neighborhood Restaurants

Real Louisiana Food for New Orleans Visitors

 

---

Resources:

Great Recipes for Tailgating (or Mardi Gras!)

---

Miss last week's recipes?

---

Interested in Advertising?

Email Susan Ford for a rate card
---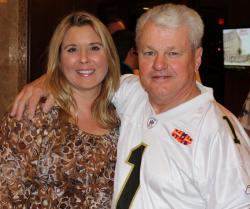 On the Road for Kitchen and Culture
We (Jyl & Susan) are currently in Shreveport for the Louisiana Travel Promotion Association's (LTPA) annual Summit meeting. Yesterday Susan and I were invited to lunch at The Shreveport Club, a private space established by members of the Shreveport business community in 1945. Elegant and gracious, the club features beautifully  appointed dining rooms and expertly executed regional cuisine. I am a roux snob, second only in line to my friend - and our official new staff photographer -David Gallant, but the nearly black roux which formed the foundation for the club's seafood gumbo was a beautiful sight to behold, as was a perfectly pan-seared piece of fresh Gulf redfish  that was finished with a delicate caper beurre blanc. Read the rest of Jyl's blog here.
---
---
| | | |
| --- | --- | --- |
|   | Seared Pork Chops with Caramelized Apples and Onions |   |
 

Courtesy of Lodge Manufacturing, this recipe combines meaty pork chops with onions and Granny Smith apples. It's very simple, but incredibly tasty. Hands on time, ten minutes tops, cooking time 15 minutes top. I'd bake off some Louisiana sweet potatoes to go along with it, steam some green beans, make a salad and call it dinner.
---
 

From Louisiana Kitchen editor Jyl Benson and her husband Andrew Fox; Andrew has a space in the back yard called Big Daddy's Outdoor Grill where he fries these up. I am lucky enough to have been standing near the fryer on several occasions as he's taking them up, and heartily vouch for them. This is another fast, easy recipe guaranteed to get dinner on the table with minimal fuss, and also guaranteed to make your guests happy. 

 
---
| | | |
| --- | --- | --- |
|   | Pan Roasted Chicken Breast |   |
 

Chef Susan Spicer of Bayona in New Orleans says this recipe is "the essence of French home cooking." You sear the chicken, cooking for ten minutes or so. The remaining pan juices are fortified with some chicken stock simply seasoned with vinegar, mustard, and tarragon. Reduce the sauce, coat the chicken, and serve at once.

Pan Roasted Chicken Breast with Mustard, Vinegar, and Tarragon
---
---
Published by Kitchen and Culture Co., Louisiana Kitchen magazine will launch in 2012. Our editorial mission is to provide a unique guide to authentic Louisiana cultural and culinary traditions—and of course, the recipes you'll need to create authentic Louisiana cuisine. Your friends and family will love you.


---

---

Interested in Advertising?
email Susan

 

Jan 28, 2012

Terrebonne Livestock Rodeo - Winter Series, Houma, LA

Krewe of Perseus' 42nd Mardi Gras Ball, Slidell, LA

Jan 28, 2012 to Feb 4, 2012

Southwest Louisiana District Livestock Show & Western Heritage Days, Lake Charles, LA

Jan 29, 2012

10th Annual Chocolate Sunday, New Orleans, LA

Feb 2, 2012 to Feb 4, 2012

South Central District Livestock Show, Gonzales, LA

Feb 3, 2012 to Feb 4, 2012

Duhon/LeDoux Memorial Bull Dogging, Sulphur, LA

Feb 4, 2012

Bossier Parish 4-H Beef, Egg & Seafood Cookery Contest, Princeton, LA

Feb 4, 2012 to Feb 6, 2012

Camellias in the Country, St. Francisville, LA

 
| Add Us as a Friend on Facebook |
2012 Copyright © Kitchen and Culture • All Rights Reserved.
You are receiving this because you have indicated you are interested in authentic Louisiana cuisine and recipes.  Our mailing address is:  
Kitchen and Culture • 1450 Annunciation Street #2119 • New Orleans, LA •  70130
 Louisiana Kitchen is a registered trademark of Kitchen and Culture.
 | view email in your browser |