Chefs Keith Frentz and Nealy Crawford-Frentz: The Reigning Royalty of Louisiana Seafood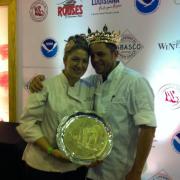 I first met Nealy and Keith Frentz in 2009 when they were recognized by a culinary magazine as rising star young chefs and I have watched them grow personally and professionally ever since. Like many young, modern, talented  chefs they are looking to take their careers to the next level, a desire that was really put on steroids for Nealy when she recently recorded a segment for a soon-to-be nationally televised cooking show. "I just felt myself come alive in front of the camera," Nealy told me. "It felt so right; I just knew that's where I've always wanted to be."  This is a desire I simply cannot relate to; I feel as though a vampire has stolen my soul every time someone so much as takes my picture — but that's a story for another day.
            Yesterday I watched Nealy and Keith take one gigantic step closer to realizing their dream when they won the Louisiana Seafood Promotion & Marketing Board's Louisiana Seafood Cook-off  and Keith claimed the title of King of Louisiana Seafood.
This was their third year in the competition and this time they hit their mark. As co-owners and co-chefs of Lola in Covington, they worked as a team to wow a panel of judges that included chefs, restaurateurs, and culinary-magazine editors with a dish they regularly serve as a Friday lunch special at Lola. The use of wild-caught Des Allemands catfish, a Louisiana favorite that has begun resurging recently after roughly two decades of scarcity on the market due to the prevalence of farm-raised fish and its simple preparation, caught the judges" attention. They served the cornmeal-dusted catfish with a Camellia red bean and local crawfish succotash, braised collards and house-made tartar sauce.
            The Frentz's were obviously moved by their win. Keith's face glowed and Nealy literally wept with joy when as she watched her husband take a knee to receive the crown  from Chef Cory Bahr, the outgoing King. It was a touching moment to witness.
            The competition involved 10 chefs from across Louisiana. The Frenz's will spend the next year representing the Louisiana seafood industry nationwide and internationally and they will compete as the state's representatives in the Seafood Promotion and Marketing Board 's ninth annual Great American Seafood Cook-Off, set for Aug. 11 at the New Orleans Convention Center during the Louisiana Restaurant Association's Foodservice Expo.
            Second place went to Chef Kevin Templet with Fremin's restaurant in Thibodaux. Templet and his sous chef, Evan Christensen, cooked up a black drum crusted in Zapp's Cajun Crawtators with a Louisiana crab and corn relish over Louisiana crawfish, bacon and asparagus risotto. Chef Drew Dzejak of The Grill Room at Windsor Court Hotel in New Orleans worked with assistant chef Vlad Ahmadyarov to win third place with a Brown Butter American Red Snapper. The fish was served with truffle Louisiana shellfish ravioli, English peas and French breakfast radish. The cook-off also involved New Orleans chefs Michael Gottlieb of Red Fish Grill, Michael Sichel of Galatoire's and Guy Sockrider of Tomas Bistro. Rounding out the competition were Cody Carroll of Hot Tails Louisiana Crawfish House in New Roads, Anthony Felan of Wine Country Bistro in Shreveport, Jaime Hernandez of Juban's in Baton Rouge and Scott Varnedoe of Stroubes Seafood and Steaks in Baton Rouge.
            Check out Nealy and Keith's handiwork at Lola, their brick and mortar restaurant, or catch them tooling around the Northshore of Lake Ponchartrain in their food truck, Lola Deux, but catch them quick; this husband and wife duo is destined for greatness.