Primary tabs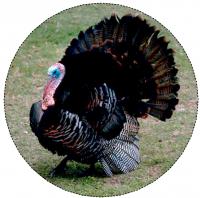 I love to host Thanksgiving dinner. Most years you'll find a mixture of family, friends, and stragglers — always an eclectic group — around my table. Over the years, I've refined my turkey roasting technique to the point that I don't even think too much about it.
Key to my dinner: I make a basic turkey stock that I keep on hand all day. Of course I use it to baste the turkey, but I also use it in my green beans, in my mashed potatoes, in the gravy I make from the pan drippings after the turkey comes out of the oven, and, if there's any left over, I use it to start the stock I make from the turkey carcass.
Click here for my turkey roasting method; below are a few tips to help you produce the perfect roast turkey.
Buy the best turkey you can afford. I always order from my butcher a free range, hormone-free hen - they cost more, but are well worth the extra flavor punch they deliver.
Note that it takes 24 hours per 5 pounds of turkey to defrost a frozen bird in the average refrigerator. If you're going to roast a 15 pound bird Thursday morning you need to have it out of the freezer by Monday morning at the very latest. If you have to buy frozen, look for one that has been injected with all-natural ingredients, no saline solutions.
Invest in a good roasting pan - avoid the cheap aluminum disposable pans at all costs. They steam rather than brown the bird, are dangerous because they may buckle when you pull them out of the oven, plus you can't make gravy in them. You'll use a good roasting pan for many things once you have one. It's well worth the investment.

 

Before you put the bird in the roasting pan, completely submerge it in a pot full of cold water for 10 minutes. Drain and repeat at least twice, refilling the pot with cold water each time.

For a larger bird use your sink to rinse the bird but make sure you disenfect the sink thoroughly both before and after. Drain the bird when done.

If you're planning to inject a marinade, seasonings, or secret family concoction into your turkey, now is the time to do it.  Here is list of  5 Turkey Injection Marinades. We recommend the 6" Signature Fat Boy from Cajun Injector for your big bird.
Assuming a 325ºF oven, estimate the following roasting times for an unstuffed turkey:
8 - 12 pounds: 3 hours or a bit less

12 - 14 pounds: 3:45 hours or a bit less

14 - 18 pounds: 4:25 hours or a bit less

18 - 20 pounds: 4:30 hours or a bit less

20 - 25 pounds: 5 hours or a bit less
You should have an instant-read thermometer. You want the internal temperature of the bird to get to 180ºF at the thickest part of the thigh for a perfectly-done bird.
For a stuffed bird, add 15 minutes roasting time, and always remove the stuffing to a separate container as soon as you remove the stuffed bird from the oven.
---
Click the following links for more important turkey handling, prep and cooking tips that we compiled courtesy of the USDA:
---