Chef Paul Prudhomme's Garlic Shrimp and Oysters on Pasta
Recipe courtesy of Chef Paul Prudhomme's Pure Magic cookbook
Ingredients:
1 tablespoon salt
1 tablespoon vegetable oil
12 tablespoons (1½ sticks) unsalted butter
1/2 cup green onions, chopped
8 medium shrimp, peeled and deveined (optional) - about 3 ounces
1 tablespoon garlic, minced
1 tablespoon plus 1½ teaspoons Paul Prudhomme's Seafood Magic®
8 oysters, shucked and drained - about 5 ounces
3/4 cup seafood stock, warm

Chef Paul Prudhomme's Garlic Shrimp and Oysters Pasta Sauce

Click image to enlarge
Method: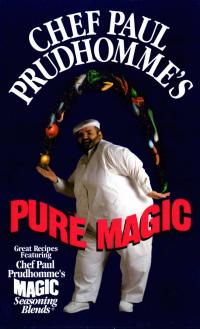 Bring a large pot of water to boil; add salt and cook your spaghetti according to package directions until just al dente. Drain and rinse thoroughly; toss with a bit of vegetable oil to prevent clumping.
Melt 6 tablespoons of butter in a large skillet over high heat and add the green onions, shrimp, garlic and Seafood Magic. Cook, vigorously shaking (not stirring) the pan in a back-and-forth motion, until the shrimp turn pink, about 1 minute. Add the oysters, stock and the remaining 6 tablespoons of butter. Cook, continuing to shake the pan, until the butter melts and the oysters curl, about 1 minute. Add the spaghetti, toss, and cook just until the spaghetti is heated through, about 1 minute. Remove from heat and serve immediately.
For each serving, roll the spaghetti on a large fork and place on a serving plate. Top with the remaining sauce and garnish with the shrimp and oysters.
Chef's note: The sauce for this dish is best made only two servings at a time. To make more, do so in separate batches but serve while piping hot.
---
Similar Recipes by course

| | | | | | |
| --- | --- | --- | --- | --- | --- |
| | | | | | |
| | | | , | | |
Louisiana Recipes Weekly

  Every Thursday you'll receive new recipes, events & festivals and more. See archive