Congratulations to Chris Lusk!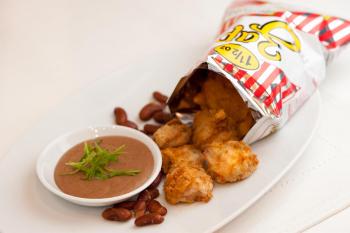 And Chefs John Folse and Rick Tramonto, for having the foresight to snag Chris as their Chef de Cuisine at Restaurant R'evolution.
Chris created this Crawtator Crusted Gulf Oysters with Red Bean Gravy for the cooking demonstration stage Kitchen and Culture produced for the Louisiana Seafood Promotion and Marketing Board at the 2011 New Orleans Home and Garden Show. Enjoy!
I'm really looking forward to what is going to come out of the R'evolution kitchen! The Times-Picayune's Brett Anderson reports.