King of Louisiana Seafood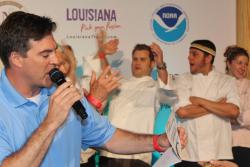 One of my favorite parts of the New Orleans Wine and Food Experience is the Louisiana Seafood Cookoff that takes place on final afternoon of the show. Chefs gather from all over the state to vie for the title of King or Queen of Louisiana Seafood, and competition is always fierce.
This year was no exception; I'm glad I wasn't required to judge. I'm even gladder I got to taste! I'm going to see if I can finagle some of the recipes to post here later this month. Louisiana Cookin' 2011 Chef to Watch award winner Cory Bahr of Sage Restaurant, Monroe, Louisiana took the crown this year, with Chef Diana Chauvin of La Thai, New Orleans, and Chef Keith Frentz, a Louisiana Cookin' 2009 Chef to Watch award winner,  of LOLA, Covington, coming in third. Congratulations to all of you, and keep giving us great dishes featuring Louisiana seafood.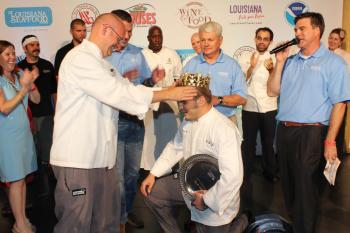 Chef Chris Lusk, 2010 King, crowns Chef Cory Bahr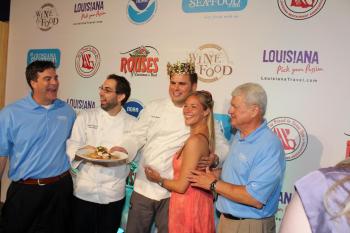 Ewell Smith and Harlon Pierce congratulate Cory and his wife Sam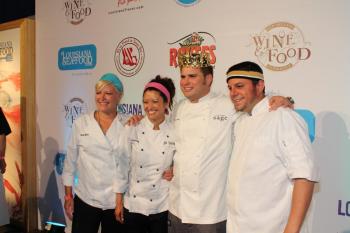 Diana Chauvin, Cory Bahr, Keith Frentz