Most Read Recipes of 2012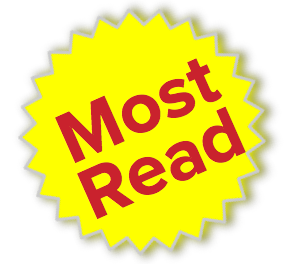 We pay close attention to what you, the reader, are interested in, and use the information to plan editorial content for the print magazine, the website, and our email newsletter. Here's the list of the most-viewed recipes on our website for the entire year, with links to the recipes; please feel free to add your thoughts in the comments section below:
Rank
Recipe Description
Photo

10.

Susan's Red Beans and Rice

This recipe is foolproof, and requires nominal attention once it goes on the stove; just keep it at a simmer, and thoroughly stir and scrape the pot every half hour or so. Leftovers freeze beautifully, which is an added bonus in my mind.

 

9.

Mike Anderson's Seafood Gumbo

From Mike Anderson's Seafood, this is seafood gumbo at its finest. The recipe suggests you use boxed seafood stock and jarred roux, to save on time; we provide links to recipes for both if you want to make the whole pot from scratch. In either case, you'll be pleased; pour yourself a glass of wine before you start the roux.

8.

The "Besh" BBQ Shrimp

The method for this recipe begins "Combine all ingredients in a saute pan set over high heat and boil until shrimp are fully cooked and pink. Remove shrimp to a serving dish. Continue to reduce sauce until it is thick enough to coat the back of a spoon and is the color of melted milk chocolate." I don't think we need to editorialize that any more!

BONUS: cooking demonstration video

7.

Galatoire's Shrimp Remoulade

Louisiana Kitchen & Culture's editor in chief Jyl Benson co-wrote the Galatoire's Cookbook and family history, and I've heard her say numerous times that anyone with a food processor, regardless of their cooking prowess, can make this recipe. Added bonus: it's better after it sits for a day, so make it in advance. Simply toss with perfectly boiled cold shrimp, plate over lettuce, and serve.

6.

Chef Tommy Centola's Seafood Stuffed Mirlitons

Excerpted from You Can't Keep New Orleans Out of the Chef, these mirlitons (aka chayote or vegetable pear) are boiled the flesh is scooped out and mixed with shrimp, crab, ham, and breadcrumbs, and that whole mixture is seasoned and used to stuff the mirliton shells. Bake until browned.

5.

Emeril's Creole Fried Chicken

The twist to this classic fried chicken preparation is that the chicken and the flour are seasoned with Emeril's Essence, and the chicken is slathered in good Creole mustard. Rotate the chicken through flour-egg wash-flour, and pan fry off to crispy, tender goodness.

4.

Jyl Benson's Crabmeat Salad

Jyl and an old friend found themselves in need of a quick appetizer for unexpected guests, and put this recipe together on the fly. It contains a full pound of crabmeat, making it luxurious enough for any occasion, but comes together in just a few minutes using staples from a well-stocked pantry.

3. 

Pan Roasted Chicken with Vinegar, Mustard, and Tarragon

From Chef Susan Spicer's Crescent City Cooking, she says "This, to me, is the essence of French home cooking: a simple sauté and flavorful pan sauce made with vinegar, mustard, and tarragon (the quintessential French herb). If you can't find fresh tarragon, you can use tarragon vinegar instead and finish the dish with chives, but it's just better with fresh tarragon.  For the best results be sure to use a flavorful chicken stock. If yours tastes a little weak, start with two cups instead of one and let it reduce longer to concentrate the flavor."

2.

Gulf Shrimp & Grits

Chef Justin Devillier serves a version of this recipe at La Petite Grocery, the restaurant he and his wife own on Magazine Street in New Orleans. He recommends using stone ground grits that have been cooked in milk and butter for 90 minutes; they're incredibly creamy. If you're pressed for time, you can substitute quick cook grits, but don't skimp on the milk and butter.

BONUS: cooking demonstration video

1.

Jyl Benson's Stuffed Crawfish Bread

Jyl and her family rave about the crawfish bread you can purchase at the New Orleans Jazz and Heritage Festival.

Last year, after deciding that she couldn't wait until the Fest rolled around to get her crawfish bread fix, she decided to crack the code, and learn to make it herself. 

It took a few tries and adjustments, but this recipe finally nailed it.