Chef Paul Prudhomme's Blackened Fish Filets
Recipe courtesy of Chef Paul Prudhomme's Always Cooking!
Ingredients:
1/2 stick unsalted butter (melted) or oil

3 tablespoons Chef Paul Prudhomme's Seafood Magic® OR Blackened Redf'tsh Magic® OR Meat Magic® OR Barbecue Magic® OR Fajita Magic® OR Magic Seasoning Salt®

6 

(8 to 10-ounce) fish filets (firm-fleshed fish such as red snapper, catfish, redfish, salmon or tuna steaks (or other freshwater or saltwater fish), at room temperature, cut about 1/2-inch thick

Chef Paul's Blackened Fish Filets

Click image to enlarge
Method: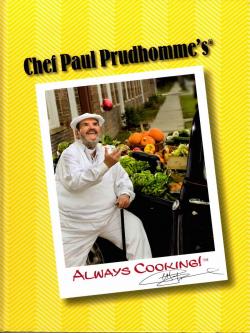 Heat a large cast-iron skillet over very high heat until it is extremely hot (about 600°F).
Spread a little of the butter or oil on each side of the filets. Sprinkle one side with ¾ teaspoon of the Magic Blend and place the filet in the heated skillet seasoned side down. Sprinkle the top side with ¾ teaspoon of the Magic Seasoning Blend. Cook, turning frequently until the fish starts to flake, about 4 minutes. Repeat with remaining filets. Serve each filet while piping hot.
 Special note from Chef Paul: Because this method is simple, any variation will make a dramatic difference. Be sure the skillet is hot enough and absolutely dry. Be sure not to overseason-the herbs and spices should highlight the taste rather than hide or overpower it. You don't want to overcook the filet- there's a big difference between blackened and burned. Avoid a burned, bitter taste by wiping out the skillet between batches.
Technique: If you don't have a commercial hood vent over your stove, this dish will set off every smoke alarm in your neighborhood! It's better to cook it outdoors on a gas grill or a butane burner.
Or, you can use a charcoal grill, but you'll need to make the coals hotter by giving them extra air. (A normal charcoal fire doesn't get hot enough to "blacken" the fish properly.) Meanwhile, heat your cast-iron skillet as hot as possible on your kitchen stove, at least 10 minutes. When the coals are glowing, use very thick potholders to carefully transfer the hot skillet to the grill.
You can also make this a reduced fat dish simply by spraying both sides of the fish filets with nonstick cooking spray (instead of using butter) before applying the seasoning.
---
Similar Recipes by course

| | | | | | |
| --- | --- | --- | --- | --- | --- |
| | | | | | |
| | | | | | |
Louisiana Recipes Weekly

  Every Thursday you'll receive new recipes, events & festivals and more. See archive