Primary tabs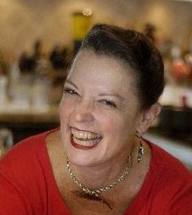 I first met Poppy Tooker over 22 years ago. It was the afternoon of Christmas Eve and she descended upon the French Quarter home of Robin Mcalear—a friend who became my mother in law, then became my former mother in law, then became my friend again—bearing bottles and jars of homemade holiday cheer. As though Poppy's alabaster skin, scarlet lips, and raven hair (which was twisted into a glamorous chignon) were not enough to stop traffic, Poppy had donned a crimson velvet holiday gown with a full sweeping skirt and a fitted, subtly revealing bodice. This was back in the early 90s when femininity was out and most women dressed like men. I've no doubt that Santa appeared at Poppy's Uptown home later that evening and presented her with whatever the Hell she wanted. She was a force.
In Poppy I quickly discovered a kindred spirit with passions for cooking, writing, and Louisiana heritage. I was about to graduate from college while working as a Times-Picayune newsroom grunt and trying to figure out what to do with my life. Meanwhile, Poppy seemed to be living The Dream. She just seemed to follow her passions and effortlessly morph them into the life she wanted to live - while getting paid to do it. Her personal motto is "Eat It To Save It!," and she has been instrumental in reviving endangered local foods such as Creole cream cheese and rice calas.
Over the years I have watched as she taught Louisiana-heritage cooking classes around the world, headed up cooking demonstrations for the Jazz Fest, wrote for a host of culinary magazines, buried Bobby Flay on "Throwdown" when he tried to one up her (as if!) in making Creole gumbo, helped Leah Chase reopen Dooky Chase's after Katrina, wrote a cookbook (The Crescent City Farmers Market Cookbook, founded a radio show (Louisiana Eats!), crusaded for the quality and purity of Louisiana seafood in conjunction with the Louisiana Seafood Promotion & Marketing Board....the list goes on and on. Visit poppytooker.com.
Poppy is one of my personal heroes and I admire her all the more because I now realize she's been quietly working her ass off while making it all look effortless and fun.  As a veteran of both The Food Network and The History Channel, Poppy is no stranger to national publicity but the coming weeks will be particularly active for New Orleans' hometown Culinary Activist. Next Thursday (Jan 26) at 3 p.m., Poppy will lead  Andrew Zimmern (of the Travel Channel's "Bizarre Foods with Andrew Zimmern" and MSN's new "Appetite for Life with Andrew Zimmern"), on a shopping spree through the Mid-City location of the Crescent City Farmers Market (3700 Orleans Ave, in the parking lot of the American Can Apartments)  in search of ingredients for a proper Louisiana shrimp etouffee. After a Poppy-led cooking class tastes of the etouffee will be shared with market attendees  in exchange for contributions in any amount to support community programming at the Crescent City Farmers Market. The free event will be recorded for an upcoming episode of the new MSN web series "Appetite for Life with Andrew Zimmern" and Poppy Tooker's "Louisiana Eats!" radio program on WWNO 89.9FM.
Just a month later on Friday, March 23rd, Poppy will be a part of the kickoff party for Jane & Michael Stern's Road Food Show at the Royal Sonesta Hotel.  She will conduct a live taping of Louisiana Eats! that will include interviews with the Sterns and  Lynne Rossetto Kasper of  The Splendid Table.  Johnny Sketch and the Dirty Notes will be the house band (Tonight Show style!), and the event will feature a "Stump the Chef" segment using oddball crazy Louisiana ingredients. The event will begin at 6:30 pm with a cocktail party and book signing then progresses into the Grand Ballroom for the 45 minute taping of the show.