| | |
| --- | --- |
| | |
 

Welcome to Louisiana Kitchen

 

Jim and I were invited to Harrah's private grand opening celebration at Manning's Restaurant this week—that's where my picture was taken. I'm sitting in a plush leather recliner in front of one of the largest television screens I've ever seen. You can reserve one for yourself for the big game, and it comes with food and drink.

 

Chef Anthony Spizale heads up the kitchen, and is turning out some tasty dishes. My favorite was the Crawtater-crusted Drum with Crystal Buerre Blanc. Jim went back three times for tastes of the steak, but also asked for the drum recipe at the end of the evening. Another stand-out was fried oysters and grits. Pictures from the evening are here.

 

Another eagerly-anticipated New Orleans restaurant opened this week: Superior Seafood on St. Charles at Napoleon. They gutted the old Copeland's building that had been a boarded-up eyesore for years, turning it into a beautiful hot spot that will no doubt be very popular with locals and tourists alike. Chef Justin Ferguson heads up the kitchen and he invited Jyl and me to invite a table full of friends for the "Friends and Family" night last Friday. I had a perfectly done shrimp cocktail appetizer, and a delicious bowl of barbecue shrimp. (Hey, I like shrimp!) Pictures from the evening are here on our Facebook fan page—take a look, and "like" us while you're there.

 

Many thanks to those of you who sent us restaurant suggestions for our trip to Shreveport. We'll make it to as many as possible, and will let you know what we think. We've tacked on stops in Ruston, Monroe, Alexandria, and Breaux Bridge, so it's turning out to be quite a road trip. Stay tuned!

 

My best regards,
                                                              
Susan Ford, President
Kitchen and Culture Co.
http://louisiana.kitchenandculture.com
susan@kitchenandculture.com  
jyl@kitchenandculture.com

 

 

---

---

Follow Us on Facebook:

Kitchen and Culture


---

Relevant Blog Entries:

Visitors: Our Favorite New Orleans Neighborhood Restaurants

---

Resources:

Great Recipes for Tailgating (or Mardi Gras!)

---

Miss last week's recipes?

---

Interested in Advertising?

Email Susan Ford for a rate card
---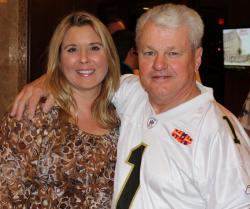 Poppy Hits the Big Time
I first met Poppy Tooker over 22 years ago. It was the afternoon of Christmas Eve and she descended upon the French Quarter home of Robin Mcalear - a friend who became my mother in law, then became my former mother in law, then became my friend again - bearing bottles and jars of homemade holiday cheer.
As though Poppy's alabaster skin, scarlet lips, and raven hair (which was twisted into a glamorous chignon) were not enough to stop traffic, Poppy had donned a crimson velvet holiday gown with a full sweeping skirt and a fitted, subtly revealing bodice.This was back in the early 90s when femininity was out and most women dressed like men. I've no doubt that Santa appeared at Poppy's Uptown home later that evening and presented her with whatever the Hell she wanted. She was a force. 
Read the rest of Jyl's blog here, and get some exclusive recipes from Poppy.
---
---
| | | |
| --- | --- | --- |
|   | Chef Paul's Garlic Shrimp & Oyster Pasta |   |
 

Chef Paul Prudhomme's "Pure Magic" cookbook carries this simple recipe. He notes that the sauce is best made two servings at a time so that everything cooks evenly and is properly flavored. It comes together in less time than it takes to boil pasta, so it's a perfect week-night supper for two. Or get more than one pan going if you're feeding a crowd.
---
 

Excerpted from Martha Hall Foose's James Beard award-winning cookbook "Screen Doors and Sweet Tea", this skirt steak (or flank steak; I think the skirt is beefier) is marinated in a mixture of lime juice, garlic, chili powder, and a few other seasonings then grilled off to desired degree of doneness. Eat it as is, use it to stuff a flour tortilla, put it on flatbread with some mushrooms and feta cheese, etc. The possibilities are endless.
---
| | | |
| --- | --- | --- |
|   | Pistachio-crusted Redfish with Strawberry Buerre Blanc |   |
 

Chef Holly Goetting of Charley G's in Lafayette gave us this recipe last spring, and we raised our eyebrows a bit at the idea of strawberries and fish. We raised our eyebrows even further when we tasted it; Jyl declared in classic dramatic Jyl fashion that she wanted to be embalmed in the buerre blanc. And I'll back her up—that was some good stuff. This is an easy recipe that will wow anyone who tastes it. (Substitute any firm, mild white fish if you don't have access to redfish.)

Pistachio-crusted Redfish with Strawberry Buerre Blanc
---
---
Published by Kitchen and Culture Co., Louisiana Kitchen magazine will launch in 2012. Our editorial mission is to provide a unique guide to authentic Louisiana cultural and culinary traditions—and of course, the recipes you'll need to create authentic Louisiana cuisine. Your friends and family will love you.


---

---

Interested in Advertising?
email Susan

Jan 24, 2012 to Jan 26, 2012

Louisiana Travel Promotion Association Annual Summit, Shreveport, LA

Jan 21, 2012 to Jan 24, 2012

Baton Rouge Jewish Film Festival, Baton Rouge, LA

Jan 25, 2012

Chili Cook Off Houma, LA

Jan 27, 2012 to Jan 29, 2012

NOE Boat and Outdoor Show 2012, Monroe, LA

Jan 27, 2012

Cooking with the Stars, New Orleans, LA

Jan 28, 2012 to Feb 4, 2012

Southwest Louisiana District Livestock Show & Western Heritage Days Lake Charles, LA

 
| Add Us as a Friend on Facebook |
2012 Copyright © Kitchen and Culture • All Rights Reserved.
You are receiving this because you have indicated you are interested in authentic Louisiana cuisine and recipes.  Our mailing address is:  
Kitchen and Culture • 1450 Annunciation Street #2119 • New Orleans, LA •  70130
 Louisiana Kitchen is a registered trademark of Kitchen and Culture.
 | view email in your browser |